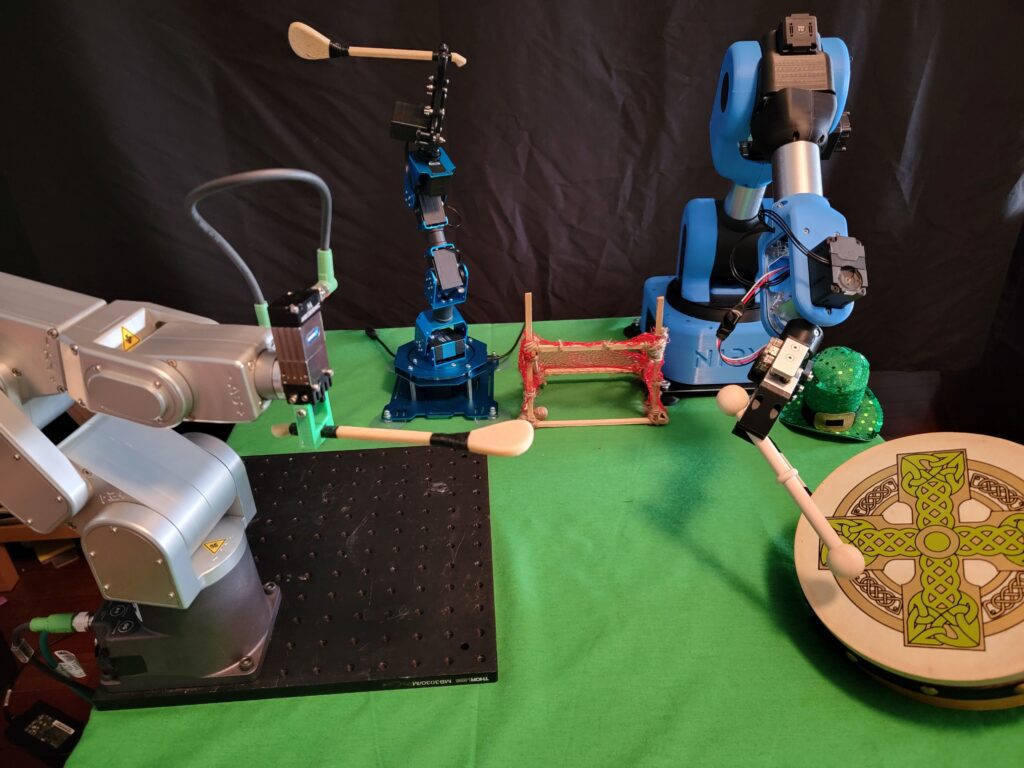 Playing around with TCP settings on the Mecademic one day, and this morphed into the thought that it would be fun to have a robotic sporting match to showcase this very useful function.
Basketball was out (couldn't figure out how to dribble the ball repeatably), and soccer didn't seem practical given the lack of legs in the participants. Irish Hurling came to mind while contemplating ice hockey (the hurley and the hockey stick have vaguely similar shapes).
Ok, so we have the sport identified, now what about props… The first time I watched a hurling match, I was sure the hurleys must have a scoop-type feature to keep the sliotar in place as the players raced up and down the field. The face of the hurley is in fact NOT concave, it's the skill of the hurlers (camogie-ers?) and the slightly raised stitching on the sliotar that keeps it in place. It's as if the players have their own TCP functions to keep the center point firmly in the middle of the flattened end of the hurley!
Here's a great YouTube video from GAA MAN with players demonstrating their hurling skills: https://youtu.be/44Gi2IarBiI
Amazingly enough, miniature hurleys and sliotars aren't for sale on Amazon or Etsy (and I did a lot of searching). Looking at some online images, I designed a model hurley in AutoDesk 360 that at least keeps the shape, if not proportions, of the real thing. Here's a great intro to AutoDesk Fusion 360 if you're not already a user: AutoDesk Fusion 360
I ended up printing the hurleys both ways; in the video, the Mecademic's hurley is flat while Neds and the xArm's have one flat, and one concave side.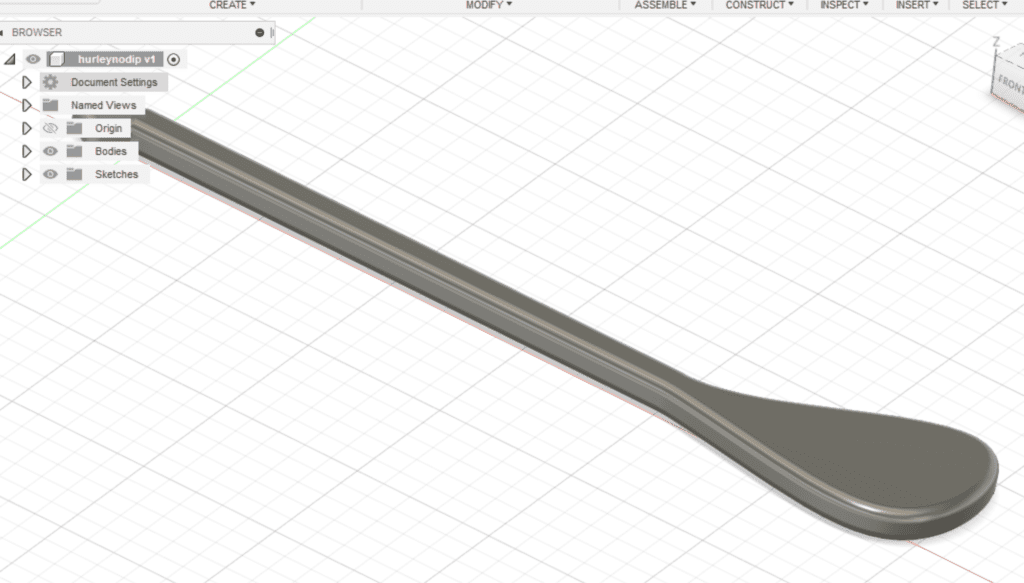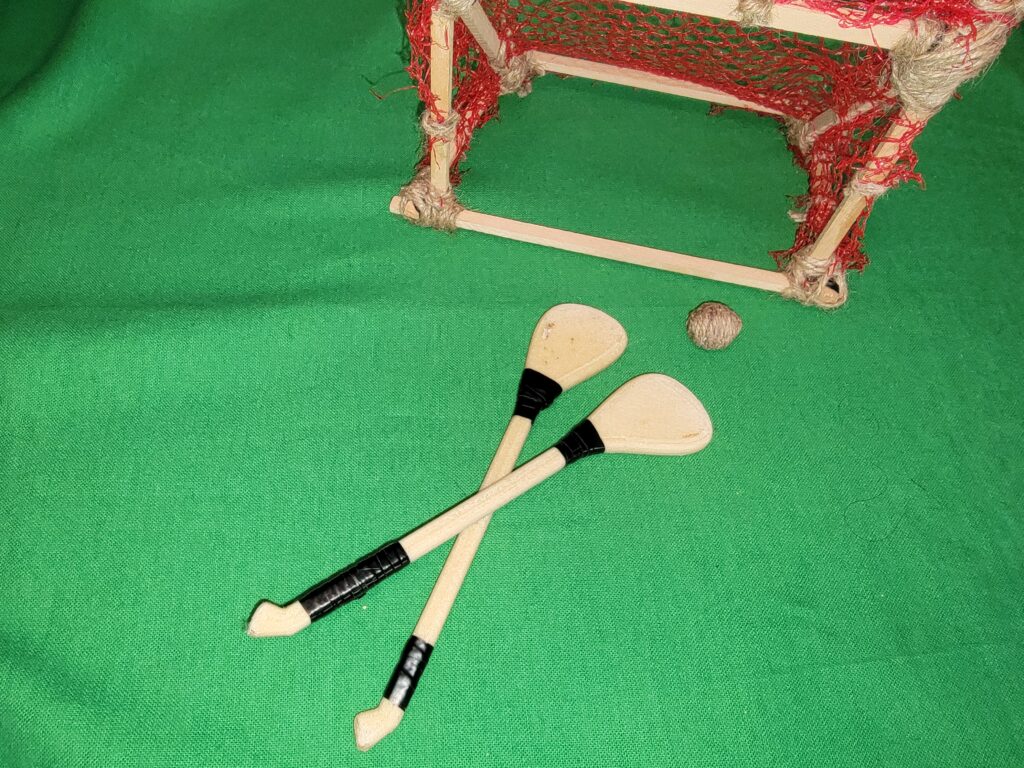 The hurley strapping is electrical tape.
OK, now for the sliotar… I spent an inordinate amount of time trying to stitch a tiny canvas ball, but the material shredded in places. Next, I cut up an old pair of leather gloves and tried sewing a leather one using a tiny baseball pattern. It turned out more square than spherical: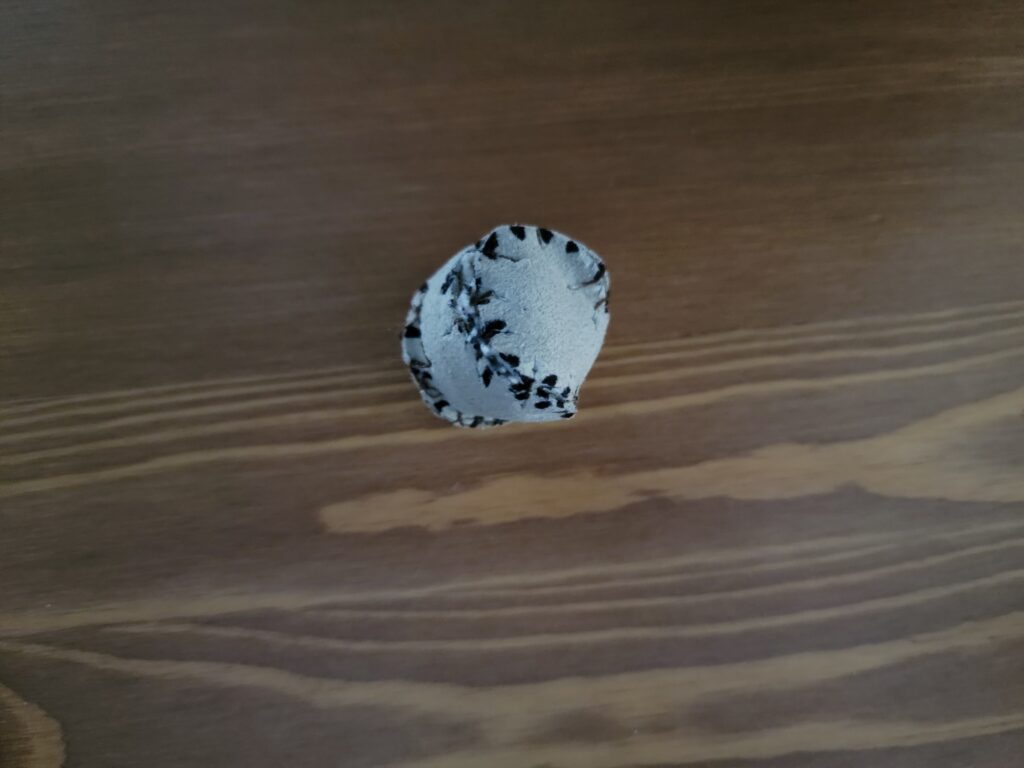 Ned actually liked this one best; it didn't roll at all, so was easier to hold on the hurley.
The final sliotar was a design based on some historical sliotar images on the National Museum of Ireland's website. They were made of cow or horse hair. A ball made of coarse twine seemed about as close as I was going to get; once the glue set, it was hard and rolled reasonably well.
The goal was cobbled together using twine and mesh netting on a wooden frame.
Programming the winning goal motion on the Mecademic was a challenge; suffice to say, acceleration settings were key. Once the proper settings were found, though, Mike made the goal in ~ 75% of the shots. Here's the final program used in the video:
You can watch the Robofiesta hurling video here.